We're unveiling a very exciting feature – Blog Health. Blog Health takes everything we know about why blogs get deindexed and shows you what you need to do to avoid deindexation.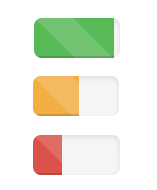 At the moment Blog Health will check for:
Low number of blog posts:  less than 10 posts after 30 days from creation date.
No recent blog posts: no post in last 30 days.
Low number of comments: less than 5 comments after 60 days from creation date.
Too many redirects: too many 301 redirects.
When everything is calculated, it will show you a Health Bar – green, orange or red. We'll be analyzing wrongly diagnosed deindexed blogs (with green bar) and improving our algorithm.
See how to resolve reported issues in our Help Center.
Let us know your thoughts!